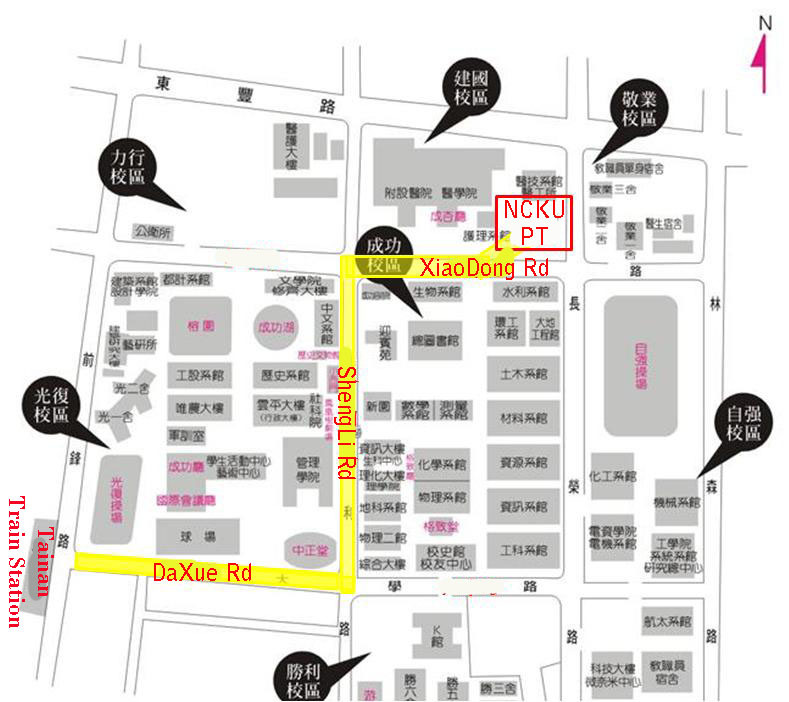 ●By Train
1. Take TRA Train to Tainan Station.
2. NCKU is located on Ta-Shueh (University) Road about 100m from the rear entrance of Tainan Station.
3. Go straight alone Ta-Shueh Road and turn left to ShengLi Road.
4. Go straight alone ShengLi Road and turn right to XiaoDong Road.
5. Walk for about 100m, and NCKU PT locates at your lefthand side campus.
●By THSR (Taiwan High Speed Rail)
Those who arrived at Tainan Station by Taiwan High Speed Rail can proceed to the interchange corridor on the 2nd floor of High Speed Rail Tainan Station or the No.1 exit on the 1st floor lobby to take the shuttle train at Sharon Station to Tainan Train Station. The shuttle train appears every 30 minutes and arrives at Tainan Train Station in about 20 minutes. You can walk from Tainan Train Station to the department (see the direction by train).